San Francisco Business Times
Grimmer feathers Nest around Mom consumers Friday, November 16, 2012, 3:00am PST San Francisco Business Times by Julia Love
Date: 16/11/2012
As a conceptual art student, Neil Grimmer created what he considered his greatest design: a wireless hug. He designed a pair of electronic vests that transferred pressure and body temperature to mimic an embrace. Today, as CEO of Nest Collective, a booming organic baby and child food company with brand name Plum Organics, Grimmer has come a long way from his days at the California College of the Arts. The business he built is still intimate, though it has grown from three employees when it was founded in 2007 to 60 today. The entire company still huddles at the start of each week to reflect and set goals.
"I never would have imagined becoming CEO of a company then," Grimmer said. "I could never imagine not doing it now."
The birth of his first child ushered in a world of new concerns, especially about the quality of food his young daughter was consuming. Grimmer knew he couldn't be the only parent with that mentality
"We feel as if we didn't start a company, we joined a movement," he said.
Nest Collective's sales rose from $300,000 in 2008 to $38.4 million last year, with dozens of products, Grimmer said. The company's sales could nearly double this year to an estimated $80 million. With his roots in design, Grimmer has devoted as much attention to product packaging as the organic ingredients inside. Grimmer put baby food in eco-friendly pouches, not jars. The packaging helps ingredients stay fresh and moves easily with mother and baby, he noted. Grimmer's designs respond to the needs of a new generation of mothers more focused on how food they purchase impacts their children's health and the environment, said Jed Smith, chairman of the board for Nest Collective and managing director of Catamount Ventures.
"Moms have shifted their purchasing behavior, and that has required someone who is a strong innovator to understand their needs and make products they want," Smith said. "Neil is a great innovator and a great listener."
The pouches sell well. Grimmer's team struggles to keep Plum Organics raspberry, spinach and greek yogurt in stock. Demand was four times stronger than the company predicted, Grimmer said.
"People say that's a great problem to have," he said. "We looked at it as disappointing our retail partners."
Nest Collective is working out system kinks as it prepares to sell overseas by the middle of next year, but hasn't decided which countries to target first.
"Healthy food for kids is a global idea," he said.
The pace of growth has required Grimmer to step back. He was once involved in company operations at every level, even wielding a wrench to fix broken equipment. Now he entrusts operations to others so he can forge new partnerships.
"That's one thing that I've grown into — not being in every detail, but not getting so disconnected that I forget what it's like to be there with a wrench," he said.

Delegation helps him cap his work week at 60 to 70 hours so he can be a parent, too. Juggling career and fatherhood can be tough, but Grimmer's children, the inspiration for Nest Collective, play a part in the company, too.
Customers who call the headquarters of Nest Collective aren't answered by a machine. The chirpy voice of Grimmer's daughter Paxton, 9, greets them.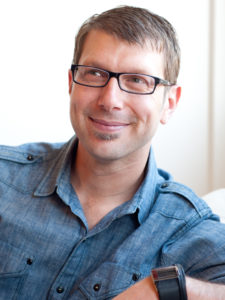 Neil Grimmer
Age: 41.
Title: CEO
Organization: Nest Collective (with brand Plum Organics).
What it does: Organic food for babies, toddlers and children.
Revenue: $38.4 million for 2011; $80 million estimated for 2012.
Employees: 60.
First job: Flipping burgers at McDonald's, age 16.
College degrees: Master's degree, product design, Stanford. Bachelor's degree, sculpture, conceptual art, California College of the Arts.
Most-inspiring leader: Eric Ryan, co-founder of Method.