The Washington Post
Let Them Eat Kale The snack aisle is going green this year. Kale is sprouting up in chips, gummies and squeeze packs. To find out if these treats are "rah" or "blah," we enlisted two brothers as taste testers: 6-year-old Nickolas and 2-year-old Naythan Correa of Brightwood. So they wouldn't have preconceptions about what they were eating, we didn't tell them that the snacks contained kale until after they finished.
By: Nevin Martell
Date: 01/10/2013
Plum Organics' Fruit & Veggie Shredz (Rooty Blues)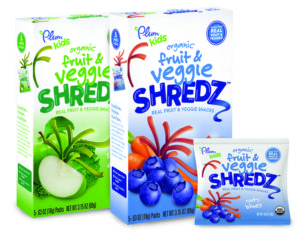 These sweet strips look like a fruit leather that's been put through the paper shredder. The kale is hidden by bolder ingredients, such as blueberries, apples and cherries, that add up to one full serving of fruit in every packet. A great afternoon treat that won't ruin anyone's dinner appetite.
Nickolas: I like them. They're like gummy bears.
Naythan: More, please!
Read the whole article here!