By Lindsay Stenovec, MS, RD, CLEC
As a mom, registered dietitian, and lactation educator, I know that sometimes moms choose to both breastfeed and formula feed for a variety of reasons. Every combo feeding routine can look a little different based upon a mom's unique situation.
Ever wonder how these combo feeding moms are making it work? Below is an inside look at the day-in-the-life of three moms who combo feed. These are examples of how a few moms have made it work for them. Your feeding schedule doesn't have to match these exactly, and your routine will naturally evolve as your baby grows and nutritional needs change. But, I do hope these examples will help you navigate your own feeding journey. As always, consult your pediatrician and lactation consultant for individual support.
Returning to Work Mom
Molly works full-time outside the home and has a 3-month old baby girl named Alyssa. She returned to work when her daughter was 8 weeks old. Although Molly has never had milk supply issues, and attempted to pump enough milk in preparation for her return to work, she was unable to build up an adequate back-up supply. Molly has a hard time producing milk with a breast pump. She consulted with a lactation consultant and has tried manual expression, relaxation techniques, and breast massage but she continues to pump less milk than her daughter needs to get through her day at childcare. Although Molly's intention was to exclusively breastfeed, she made the decision to supplement with formula three weeks after returning to work. Does this sound like you? If it does, you're not alone. While every mom's situation is unique, we thought we would give you a peak at Molly's combo feeding routine!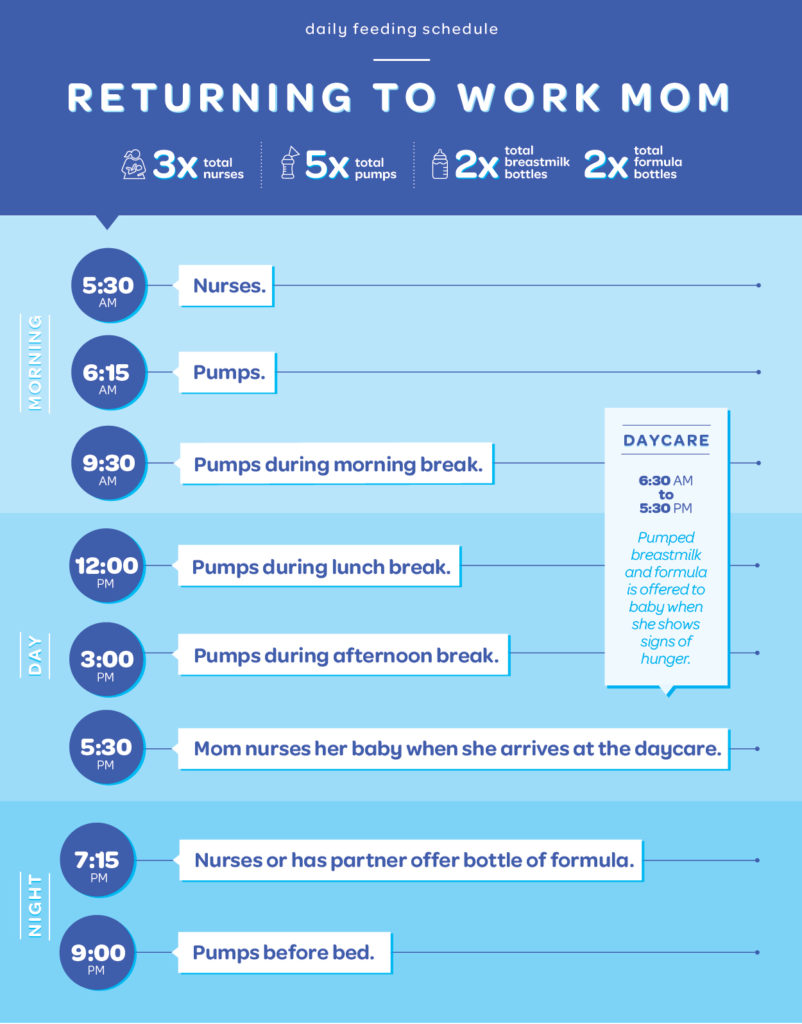 CEO of the Home Mom
Ashley has a 3-month old son named Max. Max had a difficult time latching correctly and, as a result, was not getting the amount of breastmilk he needed. This continued for a couple of months before it was identified and this caused issues for both Max's growth and Ashley's milk supply. Ashley decided to supplement with formula and continue breastfeeding when able. She pumps to try to maintain her current supply and avoid any breast discomfort. Ashley works within her home caring for her son. Here is a look at Ashley's combo feeding schedule!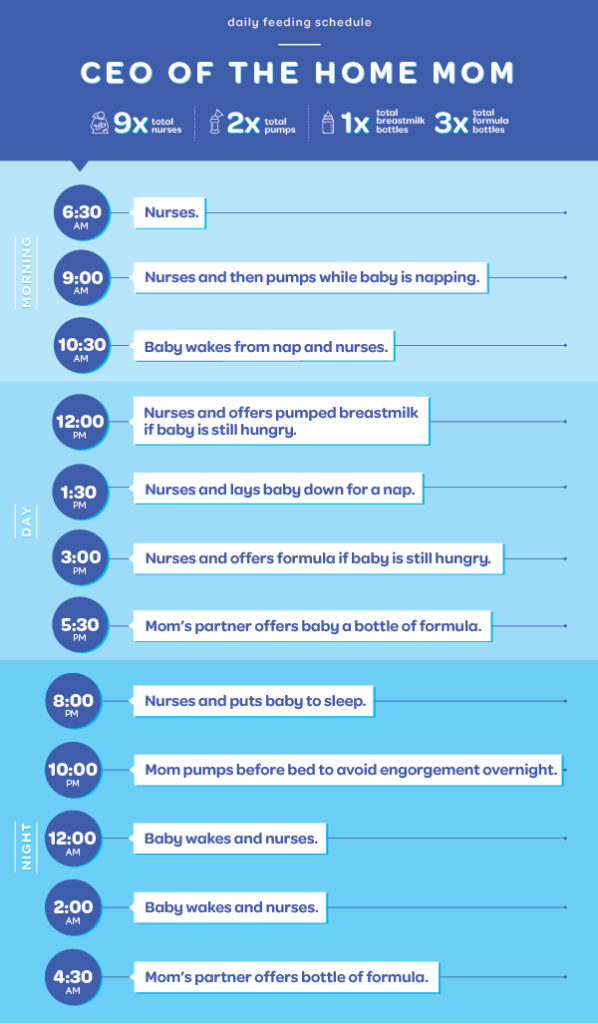 Professional Mom On The Go
Melissa is a single mom who returned to her professional work when her daughter, Regan, was 4 months old. She exclusively breastfed for 4 months and quickly realized that her fast-paced position was going to make pumping extremely difficult. Her work did offer her pumping breaks but it was not realistic to take them each day and it was causing her a lot of stress. This was when Melissa decided that combo feeding was going to be best for her and her daughter. Since she had established a good milk supply at 4 months, she was able to set up a routine where she nursed whenever she was with Regan and gave Regan formula whenever she was away. This did cause her supply to decrease over time but, as long as she nursed Regan whenever she was with her and pumped once on her lunch breaks, her supply was adequate. Here is a look at her schedule!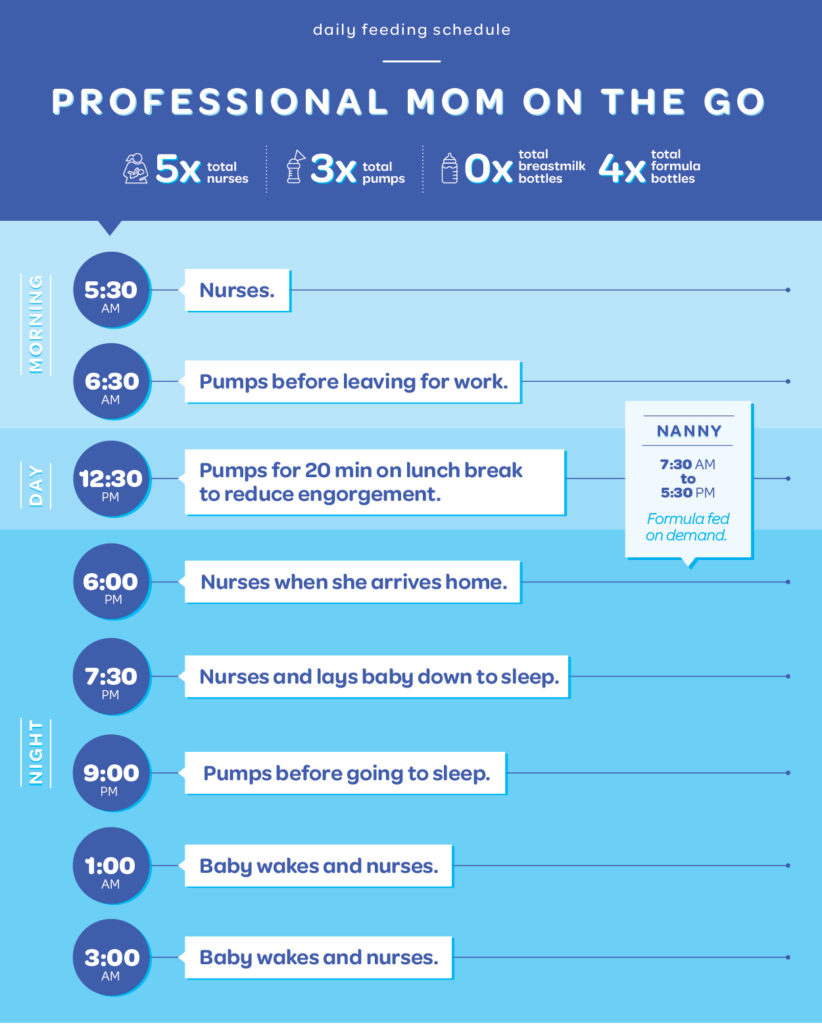 To learn more about Plum's Organic Infant Formula, check out our formula webpage.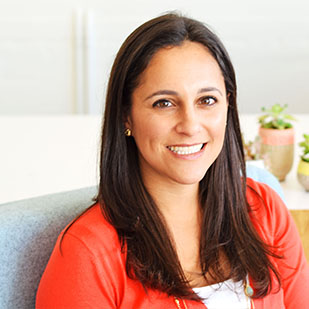 About Lindsay Stenovec, MS, RD, CLEC:Lindsay Stenovec is a registered dietitian nutritionist, eating disorder specialist, lactation educator and mother. She owns a private practice, Nutrition Instincts, where she leads and trains a team of dietitians and provides nutrition counseling services. She founded The Nurtured Mama, an online community for mothers that promotes self-care and positive body image during the perinatal period. Lindsay believes in judgment-free nutrition and offers clear and practical feeding advice that empowers parents to reduce stress around feeding, while also nurturing healthy relationships with food and body alike. She lives in San Diego with her husband and young son.
---
WRITTEN BY PLUM ORGANICS
The advice provided in this article is for informational purposes only and is not a substitute for medical diagnosis, advice or treatment for specific medical conditions. Always consult a pediatrician to understand the individual needs of your child.

---