Berry-Beet Muffins
Recipe courtesy of Bon Appétit's Executive Chef Mary Nolan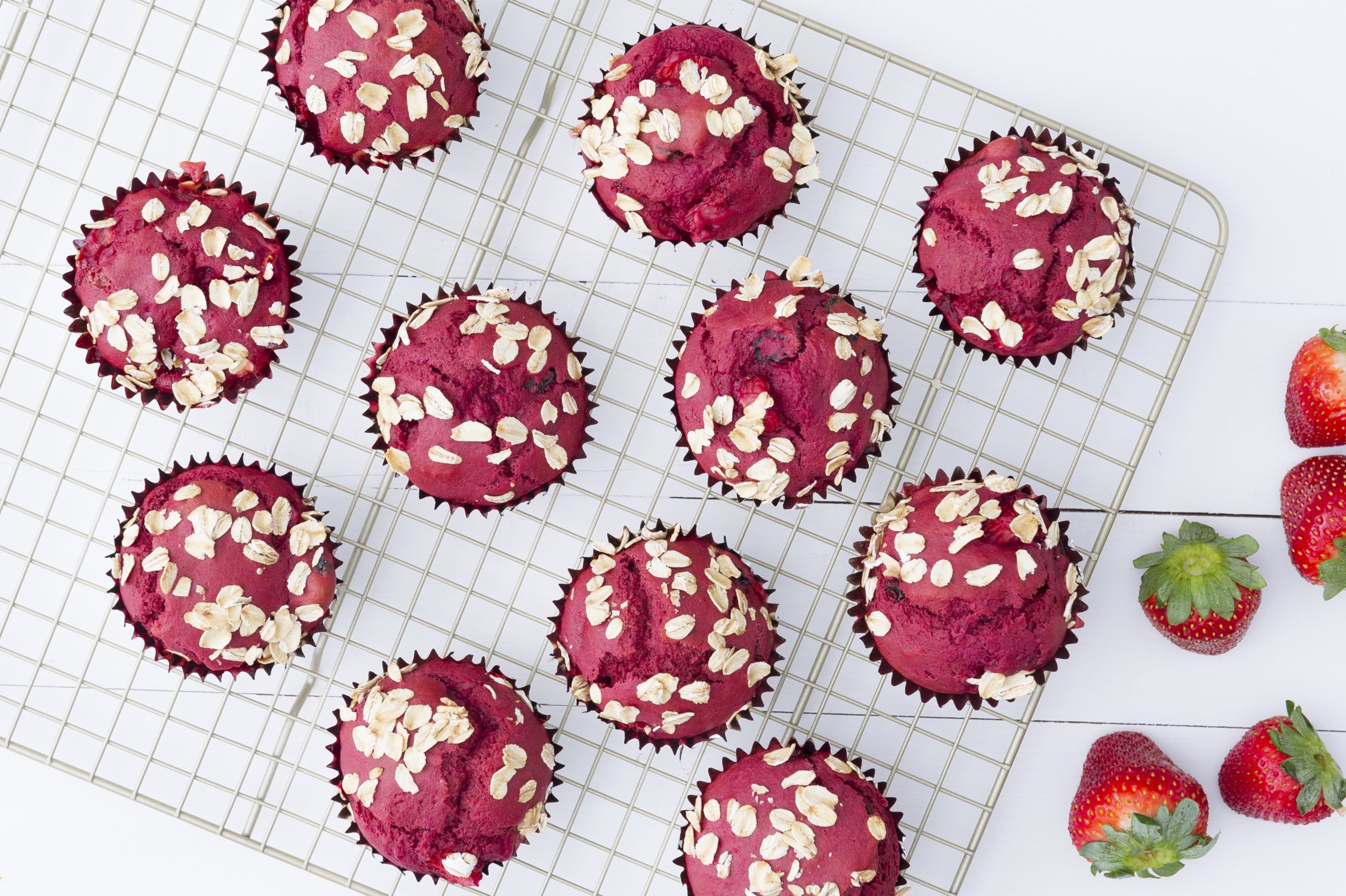 Prep time: 20 mins | Cooking time: 25 mins
Ingredients
1 1/2 cups flour
1 1/2 teaspoons baking powder
1/2 teaspoon cinnamon
1/2 teaspoon kosher salt
1 medium roasted (peeled) red beet, roughly chopped (about 2/3 cup)
1/2 cup milk
1/2 cup light brown sugar
1/4 cup coconut oil (liquefied but not hot)
1 large egg
1 cup strawberries, hulled and roughly chopped
1/2 cup dried cherries
1/4 cup uncooked oats
Instructions
Looking for more ways to add color into family meals? These beautiful anytime muffins get their vibrant color from beets. These are the perfect breakfast or snack that can use up any leftover cooked beets. Don't have any on hand? Just trim the greens from the top, tightly wrap unpeeled beets in foil and bake for 1 hour at 350 degrees. Allow to cool in the foil, and then pop them out of their peels using a paper towel.
Preheat oven to 400°F. Put liners in muffin cups.

Whisk together flour, baking powder, cinnamon, and salt in a large bowl.

Place beet and milk in blender and mix until smooth. Add brown sugar, oil, and egg and mix until smooth.

Add the beet mixture to the flour mixture and combine until flour is no longer visible (don't over mix). Gently fold in strawberries and dried cherries.<br />

Divide batter among muffin cups (about 1/4 cup each) and sprinkle tops evenly with oats. Bake, rotating halfway through, until a wooden pick inserted into center of a muffin comes out clean, about 25 minutes. Allow to cool in muffin pan for 20 minutes and then remove.<br /> Plum Pointer: If looking for a dairy-free or vegan alternative, simply substitute the milk for a nut-milk of your liking and use your favorite Plum pouch in place of the egg.