Gluten-free blueberry and sweet cornbread muffins
Featuring Plum's Cherry, Sweet Corn & Greek Yogurt Pouch.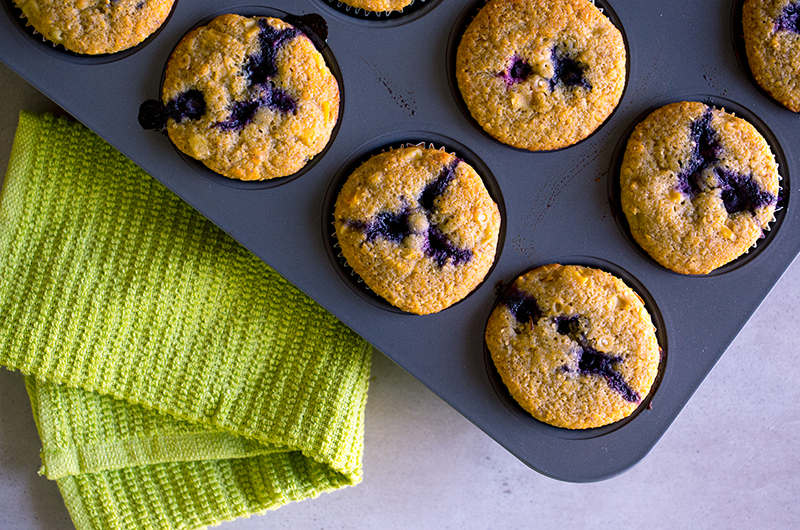 Prep time: 10 mins | Cooking time: 20 mins
Ingredients
2 pouches, Plum Organics Second Blends Cherry, Sweet Corn & Greek Yogurt
3T melted butter
1/4c honey
1/4c raw sugar
1 large egg
1c almond milk
1T lemon juice
1c cornmeal
2T ground flaxseed
1c gluten-free flour blend
1t salt
3/4t baking soda
1/2p organic blueberries
1/2 corn kennels
Additional: Standard muffin tin
Instructions
Let's face it — cornbread is one of the most delicious foods out there. Unfortunately, it's not always the most nutritious. Try a new approach with a cornbread that's gluten-free yet berry-full! Happy baking!
Preheat oven to 350F.

Line muffin tin with paper liners.

In a small-to-medium size bowl, mix dry ingredients (corn meal, ground flaxseed, gluten-free flour, salt and baking soda)

Melt butter in a large mixing bowl.

Add honey and sugar to melted butter.

Whisk in egg and add Plum pouches to wet ingredients.

In a separate container, mix almond milk and lemon juice. Let sit for 1 minute, then add to wet ingredients. Finally, mix in corn kernels.

Slowly add the dry ingredients to the wet mixture, mixing and whisking to combine.

Using a small ladle or large spoon (a ¼ or ½ cup measure could work, too), pour the batter into the muffin tin.

Top each uncooked muffin with 3-5 blueberries.

Bake for 20 mins

Serve warm!