Pinwheels
Featuring Plum's Mashups® Berry Pouch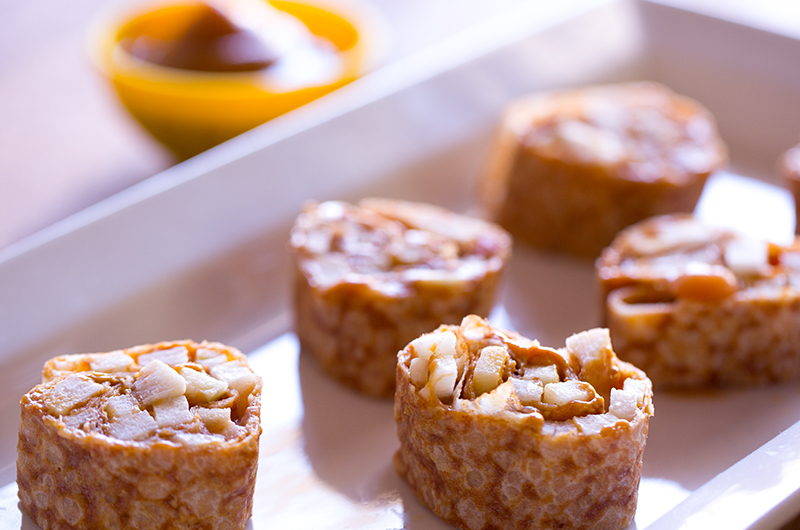 Prep time: 10 mins | Cooking time: 0 mins!
Ingredients
1 pouch, Plum Organics Mashups<sup>®</sup> Berry
1 julienned apple jicama or carrot
Almond butter or peanut butter
Whole wheat crepes (homemade or store bought, or use flatbread)
Instructions
PB&J is a timeless classic, but sometimes, you have to shake things up. These pinwheels are packed with your choice of fresh fruit or vegetables for an extra bit of crunch and a whole lot of yum! Heartier than traditional PB&J, these beauts are a cinch to make for lunch or snack time, and perfect for both kids and adults alike. Let's roll!
Place crepe or flatbread on a cutting board.

Spread nut butter, leaving a ½-1 inch margin around the border of the crepe.

Top nut butter with julienned apple, jicama, carrots, or a combo of all three

Drizzle with Mashups<sup>®</sup> (we go heavy on the drizzle).

Start from one side and tightly roll up.

Once entirely rolled, cut cross-wise to make pinwheels.

Note: sometimes when using a crepe, we like to do a double layer of crepe and nut butter before adding the crunchy fruits, veggies and Mashups<sup>®</sup>.

Serve with the remaining Mashups<sup>®</sup> puree as a dipping sauce!