Spring Pesto Pasta
Fruit in your pesto? That pears nicely! Use our Stage 2 Pear, Spinach & Pea pouch in this Spring Pesto Pasta.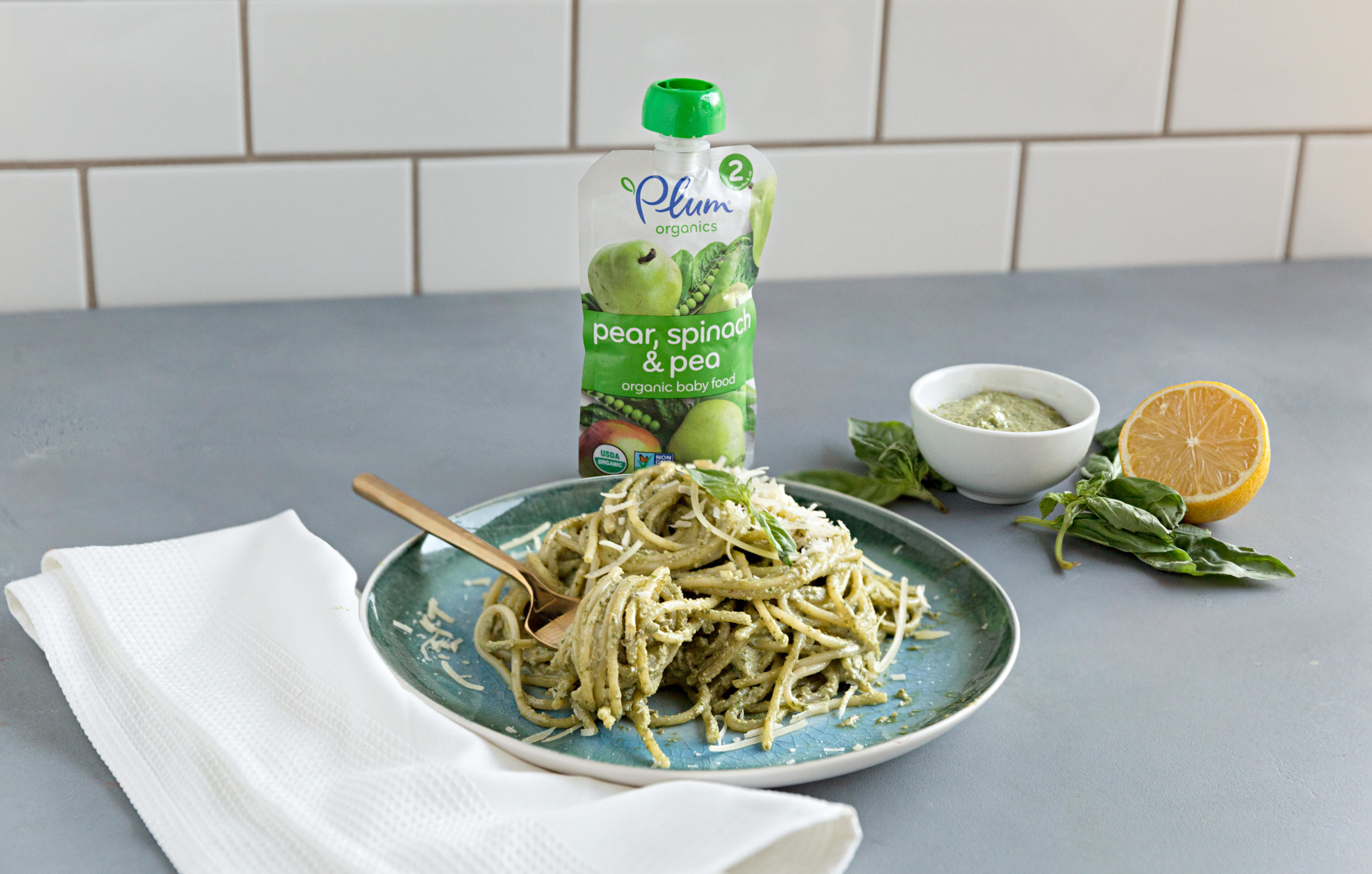 Prep time: 15 minutes | Cooking time: 12 minutes
Ingredients
1 cup fresh basil
1/4 cup pecans (lightly toast them if you desire in a small saucepan over low heat just for a minute or so making sure to not let them burn)
2-3 large cloves of garlic
Juice of 1 lemon and 1 teaspoon of the lemon zest
5 Tbsp. grated parmesan
1/2 teaspoon fresh oregano
4 Tbsp. olive oil
2-3 tablespoons of water, depending on desired thickness
1/4 teaspoon sea salt
1 S2 Pear, Spinach & Pea Pouch
Spaghetti (or your favorite pasta type!)
Instructions
While your water is coming to a boil, prepare your Spring pesto. Directions begin at step 2!
Bring a large pot of salted water to a boil over high heat.

While you wait for your water to boil, prepare your pesto. Add basil, pecans, garlic, lemon and lemon zest, Parmesan cheese, Oregano, Olive Oil, Pear, Spinach & Pea Pouch, Salt and Pepper to a blender. Blend until just combined, ensuring not to over-blend – to avoid bruising your basil and turning the pesto brown.

Once the water has come to a boil, add the pasta and cook until tender but still firm to the bite, stirring occasionally. Depending on pasta type, this will be about 8 to 10 minutes. Drain and transfer to a large serving bowl.

Toss pesto with warm pasta. Serve with freshly grated Parmesan cheese.

Enjoy!