Mini veggie pot pies
Featuring Plum's Butternut Squash, Carrot & Chickpea Pouch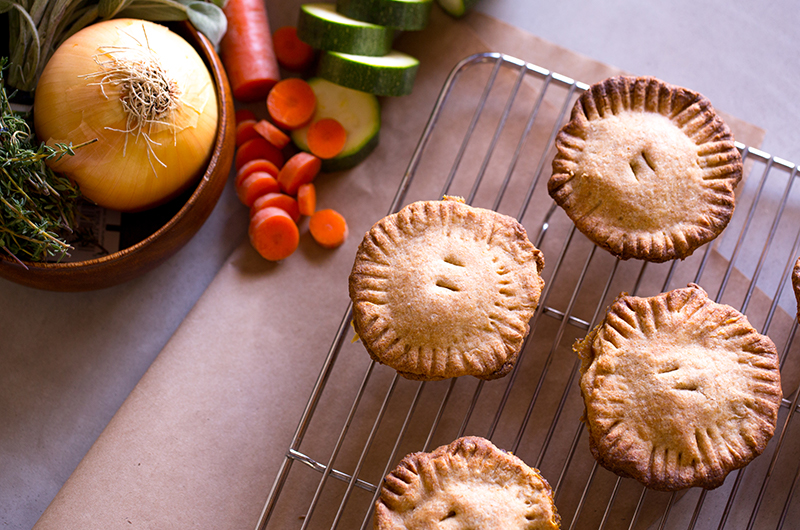 Prep time: 15 mins | Cooking time: 30-35 mins
Ingredients
Filling:
2 pouches, Plum Organics Second Blends Butternut Squash, Carrot & Chickpea
1T olive oil
1 medium zucchini squash, cubed
1 small onion, diced
1/2c frozen peas
1/2t sea salt
2t fresh herbs
1/2c vegetable broth (optional)
Whole Wheat Pie Crust:
1 3/4c whole wheat flour
3/4c butter, cold
Ice water
1t sea salt
Additional:
Standard size muffin tin
Instructions
These pot pies may look labor-intensive, but we promise the steps are easy to follow. Plus, your family will taste the TLC you put into this delicious, hearty, vegetarian meal. Sure, pot pies are classically a meat dish, but sometimes, with enough vegetables, you'll feel plenty satisfied! Enjoy these for lunch or dinner, and we promise not to tell the little ones just how many vegetables you just snuck onto their plate!
Heat olive oil in large skillet over medium-high heat.

Sauté onion for 2 minutes, adding sea salt while cooking.

Add carrot and sauté with onions for 2-3 minutes.

Add zucchini to pan and sauté for an additional 2-3 minutes.

Add herbs and cook with vegetables for 1 minute.

Remove pan from heat and add two Plum pouches plus the frozen peas.

If you prefer a soupier filling, add broth.

Sift whole wheat flour and sea salt into large mixing bowl.

Add cold butter in ¼ inch chunks.

Use pastry blade, two knives or forks to blend butter into flour until mixture is a crumbled mix of pea-sized chunks and bread crumb-textured flour/butter bits.

Sprinkle mixture with 2T ice water, and mix with your hands or a knife.

Add more ice water, 1T at a time until the dough starts to come together and you are able to form a ball. Dough should not be wet. Expect to add 5-7T of ice water.

Once you can form a ball, divide the dough in two equal parts, wrap in plastic and chill in the refrigerator for at least 30 minutes.

After dough has chilled, roll dough out to approximately 1/8 inch thickness

Cut out eight rounds from each dough section for a total of 16 rounds. The round should be larger than the muffin tins you will use as the pie pan. Consider using a large cup or small bowl as a guide for uniform rounds.

Preheat oven to 375F

Place 1 round in the bottom of 8 muffin tin slot, push the dough down into the bowl of the muffin tin slot making sure that some dough hangs over the "edge."

Fill each piecrust with the filling you have previously made.

Top each mini-pie with a second round of dough.

Crimp the top crust with the edges of the bottom crust to make a tight seal. You can use a form to make cute crimp marks, or just pinch around the edge for a rustic look.

With a small knife pierce the top of each pie.

Bake for 20-25 minutes, or until crust is golden brown.